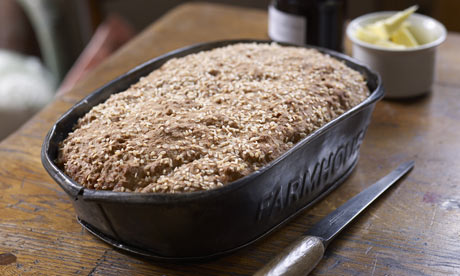 For a year as a difficult teenager, I lived in the house of my godmother, her husband and their three children. It's a lovely house - a huge Victorian end of terrace monstrosity, painted pink, in the Dublin seaside suburb of Dun Laoghaire.
One of the nicest things about it was the biggest kitchen I've ever been in, with lovely dark green cupboards and units lining one wall. Next to the sink were some drawers - if you opened the second drawer down, you found the bread board, the bread knife and the bread. This was always the same, huge flattish round loaves made by Michael from
Darina Allen's no-knead recipe
.
My success with the white yeast loaves last week emboldened me to try my hand at this recipe, which uses treacle to speed up the yeast. It creates a very wet dough, and takes a total of 90 minutes to make, including 20 minutes rising time and an hour in the oven.
The main stumbling block was that the recipe calls for a tin 5 inches by 8. I don't have anything even close to this in my vast collection of baking tins.
In my first effort, I used two 1 lb loaf tins, and I
think
I didn't let the yeast brew or the dough rise for long enough, because I ended up with two aromatic but totally solid bricks of bread.
Undaunted (or at least not very daunted) I tried again, taking more care to give the yeast a chance and using a square tin usually used for Christmas cake.
This was much more satisfactory, even though the crust is still vaguely reminiscent of Storm Troopers' armour. At least the crumb is soft and completely cooked and tastes nice.
The other difference between the first two was the flour I used. The recipe calls for 450 g of wholemeal flour, or 7 parts brown flour to one of strong white. I used all strong flour, brown and white the first time, and the second time, I used 3 parts strong brown flour to one of plain white. (I'm trying to use up the strong brown, which got substituted into an internet grocery order).
I'm hoping that a few more attempts (and possibly some plain brown flour) will see me producing bread worth keeping in a drawer.